About What Remains of Her
• Paperback: 416 pages
• Publisher: William Morrow Paperbacks (July 24, 2018)
From the New York Times bestselling author of The Silent Girlscomes this chilling, harrowing thriller set in rural Vermont about a recluse who believes the young girl he's found in the woods is the reincarnation of his missing daughter, returned to help him solve her and his wife's disappearance.
I won't say a word. Cross my heart and hope to die…
Jonah Baum, a professor of poetry at a local college in Vermont, sees his ordinary life come tumbling down when his wife and young daughter vanish from their home. No evidence of a kidnapping. No sign of murder. No proof that Rebecca didn't simply abandon her marriage. Just Sally's crude and chilling drawings, Jonah's little lies, and the sheriff's nagging fears that nothing is what it seems.
For Sally's best friend, Lucinda, it's something else. She trusts in Sally not to just disappear, not after they've shared so many secrets—especially about the woods and what they saw there. But she'll never tell. No one would believe her anyway.
As the search for Rebecca and Sally intensifies, and as suspicion falls on Jonah, the disappearances become more relentlessly haunting than anyone can imagine. Because what's seen in the light of day is not nearly as terrifying as what remains hidden in the dark…
---
Review:
I received a copy of this book for free in exchange for an honest review; all opinions expressed are my own.
When I was first pitched this book I was immediately drawn to the cover and description. I had never read anything by Mr. Rickstad, but I knew that I really wanted to give this one a try.
And boy oh boy … is it a book! I found it to be so compulsively readable! I couldn't put it down. I had to know what had really happened all those years ago … as well as how the current happenings were going to unfold. There were times that I really thought Jonah had completely lost his mind and was hallucinating everything.
At 400+ pages I expected to take longer to read this one that I did. But I couldn't get to the end fast enough. And let's just talk about that ending … wow. It's one that I never. saw. coming. There were twists and turns that I saw and twists and turns that I never imagined. It was such a good book. I loved it!
Highly recommended! And now I can't wait to explore Mr. Rickstad's backlist … and I'm eagerly awaiting what he comes up with next!
---

Purchase Links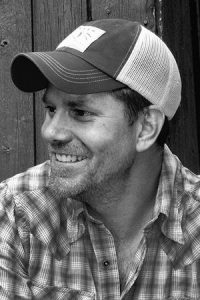 About Eric Rickstad
Eric Rickstad is the New York Times, USA Today, and international bestselling author of The Silent Girls, Lie in Wait, and Reap, novels heralded as intelligent and profound, dark, disturbing, and heartbreaking. He lives in his home state of Vermont with his wife, daughter, and son.
Find out more about Eric at his website, and follow him on Twitter and Facebook.