About Only Ever Her
Paperback: 298 Pages
Publisher: Lake Union Publishing (May 7, 2019)
It was to be the perfect wedding—until the bride disappeared.
Annie Taft's wedding is four days away, and it will be one of the grandest anyone can remember in her small South Carolina town. Preparations are in order. Friends and family are gathering in anticipation. Everything is going according to plan. Except that Annie herself has vanished. Did she have second thoughts?
Or has something much worse happened to the bride-to-be?
As the days pass, the list of suspects in her disappearance grows. Could it be the recently released man a young Annie misidentified as her mother's killer? Could it be someone even closer to her?
While her loved ones frantically try to track her down, they're forced to grapple with their own secrets—secrets with the power to reframe entire relationships, leaving each to wonder how well they really knew Annie and how well they know themselves.
---
Review:
I received a copy of this book for free in exchange for an honest review; all opinions expressed are my own.
When I was pitched this book for review I was really taken by the cover. I'm not much of a cover person, but I just felt like this particular cover was just so pretty! Plus the storyline sounded interesting, so I eagerly snatched up this opportunity.
I found this book, overall, to be a fast read. It was quick and enjoyable. However, I was a little overwhelmed by the sheer number of characters who had a voice in this book. I struggled at first to keep them all straight. What made it even worse was that I never really felt like any of the characters were fully fleshed out.
Speaking of the story, I was a little bit let down by the overall storyline. When it was finally revealed as to what happened to Annie, it just didn't feel necessarily "right". I felt like the author was going one way with the story and then a hard left turn was made and it went another direction. It wasn't necessarily a bad direction, just not one that I was really expecting. And that hard left turn made me really scratch my head trying to understand why one particular character was even included in this book at all.
So my overall thoughts? I'm kind of torn. On the one hand I liked it. It was a quick and easy read. And yet, I don't feel like it really lived up to what it could have been. I'm not entirely sure to be completely honest. It was good, but not great. A decent read that kept me entertained. But it definitely had way too many characters for less than 300 pages. And unfortunately it's probably not a book that I will remember anything about in a few months. Decent enough, but not outstanding.
---
Purchase Links
About Marybeth Mayhew Whalen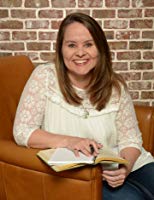 Marybeth Mayhew Whalen is the author of When We Were Worthy, The Things We Wish Were True, and five previous novels. She speaks to women's groups around the United States and is the cofounder of the popular women's fiction site She Reads (www.shereads.org). Marybeth and her husband, Curt, have been married for twenty-seven years and are the parents of six children. Marybeth divides her time between the suburbs of Charlotte, North Carolina, and the coastline of Sunset Beach, North Carolina. You can find her at www.marybethwhalen.com.
Connect with Marybeth